Car Key Replacement Palm Desert
Car Key Replacement Palm Desert & Duplicate Auto Fob Programming

Get Your FREE Estimate in Minutes!
Mobile Car Key Replacement Company
We are the car key replacement Palm Desert residents trust. You can't just walk into the dealership and buy a new key. You technically can get a replacement key, but you have to go through a process. It is not something that you can do on a moment's notice. It's not an option if you need to use your car within the day. If you need a car key replacement, you need an automotive locksmith.
Car key replacement Palm Desert & auto fob programming
However, you can't spend your valuable time driving around town searching for a car locksmith. You don't have a car so you will have to do it on foot, which isn't feasible. Fortunately, you have Locks Around the Clock. Our mobile locksmith Palm Desert team can drop by your location anywhere in Coachella Valley and create a replacement key for your car onsite. Our team can arrive anywhere in Indio or nearby areas within an hour of placing the call. You simply have to remain in place and wait for our locksmith to arrive.
If Your Car Key Broke Inside the Lock
This is obviously an extremely frustrating situation for car owners in Coachella Valley. Not just because the keys are useless, but because they're also trapped inside the ignition. This is definitely something that requires immediate attention from Locks Around the Clock. We can get your vehicle unlocked and out of harm's way and quickly get service from car key replacement Palm Desert residents trust.
Need spare car keys or keys?
Sometimes your car key can disappear and appear in strange places. If this happens frequently enough, you may begin to wonder if someone else has stolen your car key, so you could copy one of them to create an additional set of car key for yourself, just in the event that they become lost.
If your car key is stuck in your ignition or your ignition is stuck, you might need to get it fixed by an auto technician with excellent customer service in Coachella Valley.
Has the door of your vehicle locked itself recently?
If yes, then you must contact our locksmiths immediately because they can fix any issue with your lock right away! We offer 24/7 service in Coachella Valley and nearby areas, so our experts can visit your residence or business whenever you require them. They can also give you an accurate service and price quotation before they begin fixing your lock or the replacement for transponder key.
We service the entire city and we can get to you fast. Our skilled locksmith Palm Desert techs replace lost car locks in a simple, easy, and cost effective manner. We also provide key fob programming services. We can also help you find car ignition fob replacements in a quick, efficient, and affordable procedure car from key replacement Palm Desert residents trust.
Our Automotive Locksmith Services
Car Lockouts

Ignition Switch Repair

Broken Keys Extraction

Trunk Lockouts

Car Keys Replacement

Car Keys Made

Ignition Cylinder

Replacement

Ignition Repair

Motorcycle Keys Made

Key FOB Replacement

Motorcycle Ignition Rekey

High security keys

Car Doors Rekey

Motorcycle Ignition Replacement

Key FOB Reprogram

Laser cut keys

Ignition Rekey

Key Duplication

Ignition Switch Replacement

Motorcycle Keys Replacement

Transponder Keys Reprogram

Transponder Key Replacement
How to Get Replacement Car Keys
When you lose your keys it is extremely frustrating. You need to find them as soon as possible. If you cannot find them then you need a replacement key. Replacing a lost vehicle key is one of the most popular services in Coachella Valley because it can be a major hassle, especially when you don't have a spare. To avoid these types of situations, it is very important to keep a spare nearby. Having a spare allows you to change an engine without any problems. Lots of people who own vehicles also store them inside garages, so they don't have to bother about losing their keys. Call us today if you require assistance finding a new key for your car in Coachella Valley!
Locks Around the Clock is the locksmith Palm Desert residents trust to offer a wide variety of services related to car locks in Coachella Valley. Whether it' s car key duplicating, car key repairing, or car key replacing, we have what you need to keep your vehicle safe and secure. Our team replaces keys for most car makes and models. Call now for car key replacement Palm Desert residents trust in Coachella Valley.
Featured On: HGTV Desert Flippers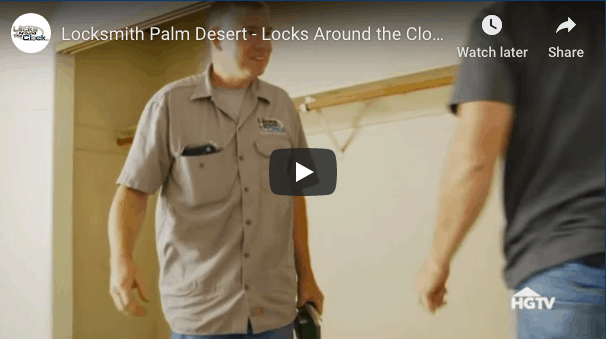 Car Key Replacement Service
Losing the keys to your car is extremely frustrating, but it is not a completely uncommon occurrence. It will happen to almost every car owner at some point in their lives. While it's not exactly a welcome experience, it still provides a valuable lesson regarding preparedness. If you have a spare key available or know how to replace lost keys, you won't have to worry about lost car keys ever again. When you lose your car keys in Indio, there is no need to worry. There are a number of different ways to acquire replacement keys so you can get back on the road. Call now for efficient service from the car key replacement Palm Desert residents trust.
Some of the things you should know or consider when getting a lost car key replaced by a key replacement company include:
Check your insurance policy. Some insurance policies will cover the cost of a replacement, which should ensure that replacing lost car keys will be free. Or at least, you will get a decent discount. Other than that, you can get a replacement of your lost car key from Locks Around the Clock – we can provide the fastest emergency locksmith services solution to your problem at reasonable rates.
You also need to remember that when it comes to car keys, you should defer to auto locksmiths. They are more affordable than going straight to the car's manufacturer for a replacement key, and they can come out to your car to make the new key. If your car is an older model, it will be easier for the locksmith to access the car and make the new key.
When searching for an affordable car key replacement services from a reputable locksmith service company, it's important to keep in mind that the cost of popular services like replacement keys can vary depending on the make and model of your car. Older models tend to be less expensive to replace than newer ones, but if your car requires special equipment for cutting and programming, be sure to ask about the cost before hiring a locksmith Palm Desert with 24-hour locksmith services. You can't go wrong with Locks Around the Clock, Inc. We are a local, family-owned business that provides competitive price, excellent service, and high-quality locksmith services to any location in Palm Desert and nearby cities.
Residential and Commercial Prices Are Always Fair and Our Estimates and Reviews Are Free 24 hours a day. We serve Indio, Palm Desert, and surrounding areas. Call now for FREE estimates.
What Our Client Reviews Say
Honest Reviews of Our Services
"Super impressed with their service! I locked the store's storage by accident. Couldn't get in to fetch the merchandize to open the store. I called them for a quote. They came in right after 30' just as promised. Took them less than a min to unlock the door and paid with the same quote (usually ppl ask for extra and give you excuse as if you have no brain). Love that about them. Totally recommend everyone!"
Ronald Prosser
Google Review
"They have done amazing work for our church building for years. When ever we need anything locksmith related we always go them. Great prices, great service with prompt and friendly ownership/staff. We highly recommend for anyone or business that has locksmith needs in the Coachella Valley!"
VCA Church
Google Review
"I needed a new key for my mailbox and I got it under 30 minutes! I was very impressed. If you want great service for a reasonable price, I would not look any further. I would recommend this company, 100%."
Jamie Perez
Google Review
"I was pleased by their staff that is very friendly and knowledgeable. They assisted me in getting the right parts I needed for a very reasonable price. I would suggest these guys to anyone needing locksmith services."
Timothy Tompkins
Google Review
"I needed a lock for a business repaired and re keyed, the guys from Locks Around the Clock was there within the hour had the whole situation sorted and cleaned. Extremely professional and affordable! The gentleman I dealt with made this whole transaction seamless."
David Murphy
Google Review
"Locks Around the Clock has been our locksmith at the El Mirador Medical Plaza for about 15 years. Prompt service. Decent approximate arrival times. Thomas and Dan are great locksmiths. Both knowledge, friendly and ask all the right questions. Highly recommend."
psjeff
Google Review
"We needed to re-key our locks after a home purchase and they were able to come out promptly within 30 minutes and got both locks fixed in under 10 minutes each for a very reasonable price. Would absolutely use and recommend to others."
Rachel Bassham
Google Review
"They rekeyed a deadbolt and installed another in under an hour. They were able to install the second lock such that we no longer had to give the door a little push when we locked it - very thoughtful! They did a great job and I'm very happy with the results."
Lisa Kerr
Google Review
"I use Locks Around the Clock for all of our rental homes in the desert. They have excellent customer service and they are very reliable. I highly recommend Locks Around the clock for all of your lock needs."
Matthew Kotz
Google Review
"This company is the best locksmith in town very friendly and professional. I recommend them to anyone who has problems with their locks."
Florida Fox
Google Review
"The people that come out and work have way more experience than me. They are fast. Friendly. And very helpful. The other day I called them and they fixed my front door lock at my home. I would highly recommend Sean and the people that work for him."
Shad the Glad
Google Review
"I've used this company several times. They are fast, efficient, and extremely knowledgeable. Competitive pricing too. Friendly owner and employees."
Barbara Kaye Johnson
Google Review
Fill Out the Form Below For Your Free Estimate
The Locksmith Indio and Palm Desert Residents Can Count On. We are just one email or phone call away even if you are outside Indio.
We Give FREE Locksmith Estimates!

Affordable Coachella Valley Mobile Locksmiths Near Me