At your door in 60mins or less!!!
Palm Desert Residents & Business Owners Trust Locks Around the Clock
Complete the form for a free locksmith estimate.

Professional locksmith Palm Desert residents can count on. Local owned and proudly serving Palm Desert, the greater Coachella Valley, and surrounding areas. We provide commercial and residential emergency locksmith key and door service & repair to the residents & business owners of Palm Desert.  We provide increased protection to any kind of door key, safe, frame, window, garage, and cabinet, as well as other hardware or places that need the protection of locks and keys. We know that security and safety is always a priority to customers and that people want their city lock safe from intrusion. This means we waste no time when you call for our locksmith services. Lock your keys in the car? Locked out of car? Lost car keys? Lock yourself out of home or hardware? Our mobile locksmiths are all professionals and can reach supported Coachella Valley areas within 30-45 minutes, so you don't have to wait too long to get the help you deserve in an emergency.  We can increase the security in your homes with a variety of lock types,  provide sturdy burglar proof safes, and solve problems with accidentally locked properties, safety boxes, and vehicles. Our locksmith Palm Desert technicians can easily change locks if yours has been compromised in the past. You will discover a whole new point of view with regard to feeling safe and having peace of mind. Locks Around the Clock has the best affordable residential local locksmith Palm Desert service and Coachella Valley lock safe products residents can count on throughout the hot days and the cold nights.
Stop your search and discover why the entire Local Palm Desert California resident customers trust us out of all the other locksmiths in Palm Desert  – Most people don't have the number of a Palm Desert mobile locksmith in their speed dial because they don't consider a locked out situation as an emergency, even if it happens in surrounding areas. A lock out with no key from your home car or business is definitely an emergency. This is a costly and dangerous mistake. You always want your valuables safe under lock and key. Locks Around the Clock, serving expert & professional service. We accommodate customers for special projects even outside of our service area, such as New York. Just contact us and explain your needs. We regularly help people in the Palm Desert and surrounding Coachella Valley areas who thought they would never need the safety 24-hour locksmith services offer. If you ever find yourself locked out of your property or house and in need of master key services, Locks Around the Clock in Palm Desert will be your best choice. Need a keyed up locksmith? Get Locked Out? Missing a key? Home or business door needs repair? We can provide a duplicate key to match your existing so that you don't get locked out again. And we give the best prices in the Coachella Valley area. We can help! Emergencies like getting locked out tends to happen when you least expect it. So it helps to always be prepared. You should always have Locks Around the Clock locksmith number on speed dial for unexpected emergency services of our locksmiths. That way, you can place a service call and our palm desert mobile locksmith can help you as soon as possible. If you're looking for locksmith Palm Desert service provider call us! Our locksmith can reach you within 30-45mins. Local owned, Palm Desert Licensed and Insured – Our entire trade is providing the best locksmiths in Palm Desert. That means security for door and key to residents of the Coachella Valley. We want clients to feel safe knowing that our technicians are the best. We only hire residential commercial locksmiths who are located and licensed, and we are very strict with the selection process. When you get the wide variety of services of a Locks Around the Clock locksmith in Coachella Valley and other areas like desert hot springs, you can rest assured that you are getting help from one of the best serving licensed and keyed up locksmith Palm Desert services you can count on day or night. Coachella Valley lock safe services are just one phone call away wherever you are in Palm Desert Palm Springs or nearby areas.
Locksmith Palm Desert Area Services
Residential Locksmith Services
Lockout Service - Home Business or Automotive
Key Duplication and Spare Key Service
Master Key & Lock Systems
New Lock and Deadbolt Installation
Door Lock Sets and Hardware
Lock Boxes and Mailboxes Lock Safe
Padlock and High Security Locks
Gun Safes Unlock and Repair Services
Automotive Mobile Auto Key Change Replacement
Lock Change for Doors, Safes, and Other Hardware
Emergency Service Security System
Locksmith Palm Desert 92260
Commercial Locksmith Services
Master Key & Lock Systems
File Cabinets and Furniture Locks
Store Front Door Locks & Key
High Security Locks and Restricted Keys
Keyless Lock and Hardware Lock Safe
Mechanical Battery Operated Lock & Keypads
Alarm Locks and Push Bars
Electronic and Digital Keypads​
Get an Affordable Estimate ASAP
Fill out the form below and we'll have our nearest Palm Desert locksmith support staff assist you immediately. Our Customer Service representatives are always on standby and ready to help. Call us for free estimates.
Featured On: HGTV Desert Flippers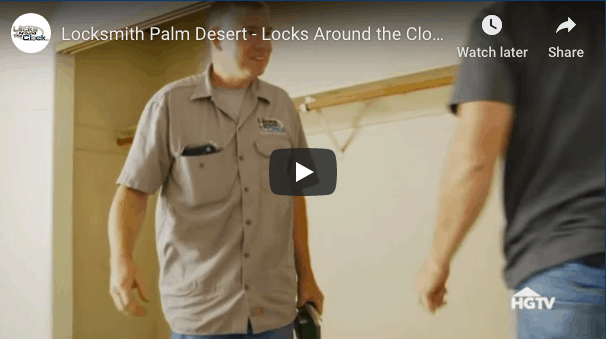 Palm Desert Residential and Commercial Locksmith Services
The Kind of Licensed Locksmith Residents & Business Owners recommend, serving Palm Deser customers in the United States.
Master key and locksmith service company is just a phone call away from indio and palm desert residents. Serving our customer from their business or home and making it secure and accessible at all times is a necessity for modern day living. Keeping a lock safe under lock and key is a right of every property owner. No burglar or malicious individual can gain easy access to your garage, house and safes, thanks to local owned Locks Around the Clock's state of the art emergency services and license professionals. We will keep your city lock safe from burglars. But in the event that you get yourself locked out of your own property, help from expert emergency locksmiths with a license is only a phone call away if you are in the Coachella Valley or Palm Springs area. We will send the best rated licensed locksmith Palm Desert has to offer and help customers keep their lock safe and get access back to their business or home anywhere in the area, day or night throughout the entire Coachella Valley lock safe industry. We provide the best prices in Coachella Valley and give free estimates no matter the hours you need us, and we have the best customer service in the industry. Our customers ' reviews don't lie. Call now and our license local and keyed up locksmiths will match competing palm springs locksmith service prices and project cost. Request a quote now.
Discover the Best Locksmith Palm Desert Professionals Residents Can Count On. Residential and Commercial Locksmith Service Prices Are Always Fair and Our Estimates and Reviews Are Free 24 hours a day, 7 days a week. We are serving Palm Desert and surrounding areas in Los Angeles. Keep Your Lock Safe. Call now for FREE estimates on project cost or if you want to find a locksmith in your area.
What Our Client Reviews Say
Read Keyed Up Locksmith, Rancho Mirage, and Indio Customer Reviews of Our Services
"Sean came and re-did all of our locks when we first bought our house. He works quickly and professionally. Very friendly and personable. We will use Locks around the Clock's Palm Desert locksmiths again in the future! "
"Prompt, friendly and checked all our locks not just the one that needed fixing, which was expertly repaired at a reasonable fee. Thomas, the locksmith, is a great young man. I highly recommend them to anyone who wants to find a locksmith!"
"Managing multi million dollar homes in the Indian Wells area requires having vendors who have the utmost experience and integrity in their field. With Sean and his locksmith team I have always been impressed. Honest, on time and always a job done right!!! Accommodating under all circumstances regardless of the situation, time constraints, or where the emergency is located. I highly recommend their Unparalleled Customer Services!!!"
"I was extremely impressed. They came on time, they were time efficient, and professional. I mattered to them. The job mattered to them. They listened and cared. I trust them and would not consider any one else in the future. They went above and beyond. I was so thankful for the work they did, I read and recommend them to everyone that needs Palm Desert locksmiths service or safety hardware install services."
Fill Out the Form Below For Your Free Estimate
Find a locksmith now. Get the Services of the keyed up Locksmith Palm Desert, Cathedral City, and Coachella Valley Residents Can Count On. Contact us now. We are just one email or phone call away even if you are outside the Indio and the entire Los Angeles, Palm Desert area.
We Give FREE Locksmith Estimates!
Find a locksmith specializing in home security. We specialize in Cathedral City lock safe services, ranging from key replacement, safe lock, safe repair, spare key duplication, and other services related to lock and safe. Find a locksmith now by calling our 24 hour locksmith and emergency locksmith services in Palm Desert California.